At Long Last...Here it is!!!
Finally Brad Pitt and Angelina Jolie got married! The wedding ceremony,which has remained secret until the end, was held on August 23 in a small chapel of their castle (Chateau Miraval) in France.
"For us it was important that it were a day relaxed and full of laughters" the couple said to People,which has obtained with Hello! Magazine the exclusive for photos.
But now Let's talk about the most important guest of that day: the Bride's dress!
Angelina Jolie's bridal dress was designed by Donatella Versace (Atelier Versace Stylist) and was sewn by Luigi Massi (Head Taylor of the Maison).
"Luigi is one of the family for me"-the actress said- "and I could not imagine anyone else to make this dress. He knows my children and loves them,and He had fun in putting togheter all their drawings".
In Fact this white,satin silk long dress is a "one piece" dress,unique and very original :
Because of the fact that their children have asked them insistently for this marriage, on Angelina's long trawl there were embroidered some colorful drawings made by the six children of the actress (which were also reproduced on the silk veil). She completed the look with a pair of white silk Versace décolleté.
This is the sketch of the gown:
And this is it! (More Photos on People and Hello! Magazine)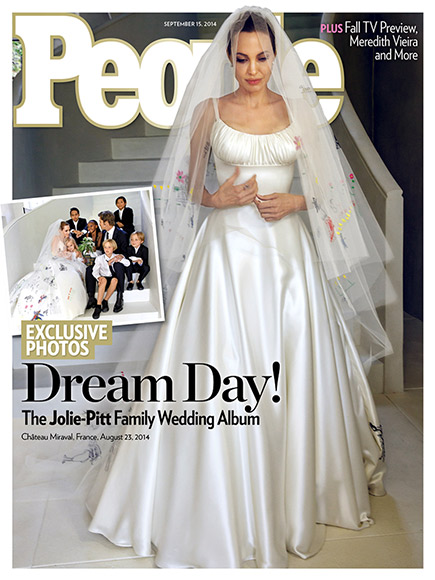 What do you think of this dress? Do you like it?
In my opinion It's a bit too extravant to be a bridal dress but,considering the couple,their love story,their family (6 children in total!),their life in general...well...It's the right choice for Her!
Congratulations and best wishes Brangelina family! Sophie x